The client.
Poldega's story, like many new businesses, starts at their local pub, just before the general election of 2015.
The Founders, Scott Lintern and Will Munro, were struggling to find the right place to ask and answer questions on politics and were astounded by the apparent lack of engagement in politics.
The challenge.
To create an online environment for everyone to engage in open and friendly discourse across the political spectrum. In just 2 months.
The project.
As a new business idea in incubation, we took a staggered approach to discovery and scoping. This allowed for extensive concept development and research before the build began.
For some teams research means a quick Google, for us it means really getting to know the user by getting up on to rooftops, or stepping back into the classroom. For this project in particular, it meant meeting with Dr Anthony Ridge-Newman, Lecturer in Politics, Communication and Democracy at the University of Glasgow, to gain further insight into the ways in which engagement with politics can be improved.
Everything from design, development and user experience was driven by this research to ensure every micro-interaction meets the needs of the user.
Lean design and development.
We take a lean approach to development, which allows the projects and the teams we work with to grow at a pace they set themselves.
This project was no different, following our meeting with Dr Anthony Ridge-Newman and additional market research we identified the need to have a live solution ready for the upcoming EU referendum on 23 June 2016.
An eye for detail.
A great user experience doesn't just focus its attention on the big picture but concentrates on optimising key micro-interaction in the user journey.

During the MVP build, we focused on the frequently used, small interactions which will inevitably make the difference between users liking and loving the site.

News aggregation.
As users share content from around the web, Spirit automatically adds context by collecting pictures, headlines and summaries of the articles being shared.
Social sharing.
Users can sign up, share and discuss content from around the web in open social forums. Spirit's social sharing mechanic provides tracking, analytics and insight for every share.
Polling mechanism.
Users can create and share their own 'poll' questions against any topic or article, greatly increasing engagement and viral-growth.
Automated recommendations.
Spirit's taxonomy framework provides a balanced recommendations engine, working to provide users with counter-point views and content.
Security and abuse.
Control the trolls! Use community driven ratings and inappropriate flagging mechanics to quickly and efficiently remove the 1% of bad conversations.
Profile personalisations.
Use onsite interactions and gamification mechanics to build personalised profiles for each user based on their topics of interest and level of engagement.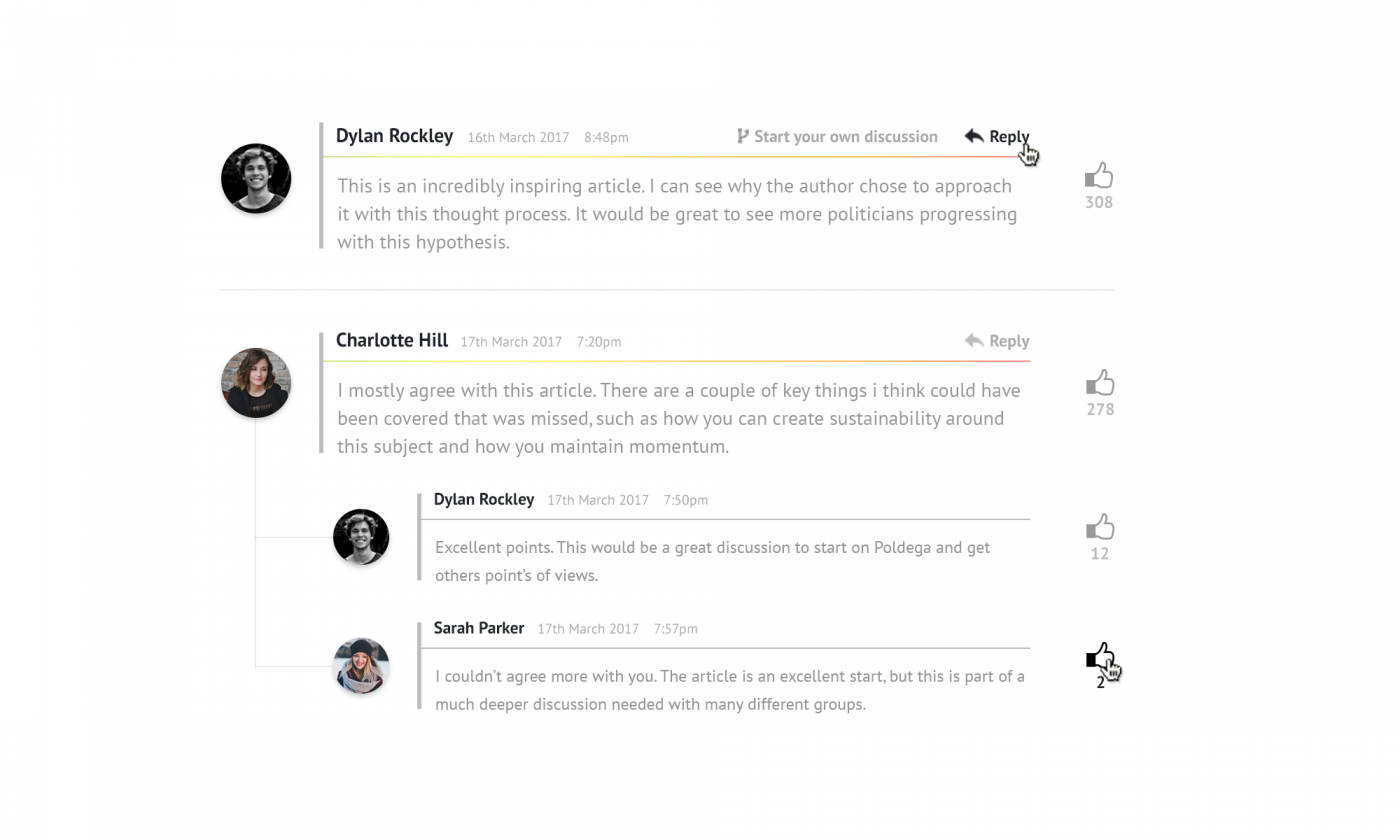 Everything is possible.
It doesn't end here. At Deep Blue Sky we understand the importance of building scalable solutions that flex as our clients and their users groups develop and change.
Poldega continues to change the way people approach politics. We are introducing new features all the time and Poldega have big plans for the future. If you'd like to know more, or if this is the kind of project you'd like to get involved with please get in touch.
"Deep Blue Sky has a strong focus on scalability and as a result of their digital strategy workshops, we have come a long way since our first meeting. The project is ever evolving and our ambitions are sky high."

Scott Lintern
Founder
Challenge us.
If you've got an idea for a great new business or a brief with the potential to change the way your business or industry operates, please get in touch, we'd love to help.