According to new analysis by PwC early this year, around 30% of existing UK jobs could face automation over the next 15 years. The same report predicts that automation will boost productivity and create fresh job opportunities, but warns of widening income inequality as robots are increasingly used for low-skill tasks. It has never been more important to build ensure your digital strategy is fully prepared for automation and your teams understand the skills required to thrive in a digital economy.
So which roles are easily automated? And where can organisations save the most time?
According to the U.S. Bureau of Labor Statistics, non-farm business productivity has grown by just 1.2% annually in the last 10 year, which is far less in comparison to a 2.2% growth in through the 1990s. McKinsey Global ­Institute's recent report argues that technologies such as AI and automation could offer the solution, citing that automation alone could boost global productivity by 0.8% to 1.4% annually.
The diagram below paints an interesting picture of the potential for automation across job sectors and activity type.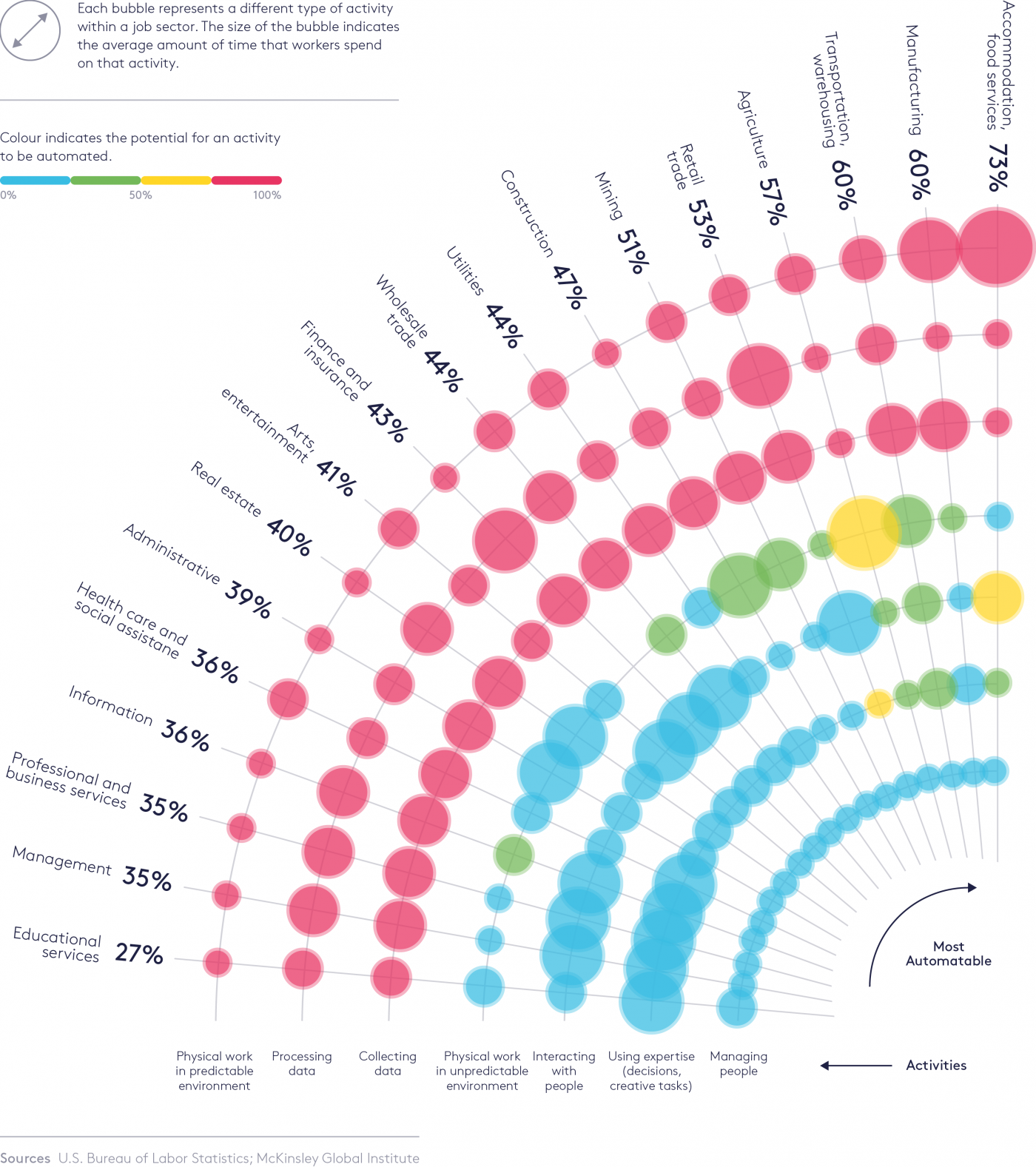 What are the key factors impacting the pace and reach of automation in the workplace?
While there's the obvious factors to consider like cost, technical feasibility and legal/regulatory obligations. Full consideration should be given to social acceptance, organisational enthusiasm and legacy systems which will undoubtedly slow down the shift towards integrated automation in the workplace.
John Hawksworth, PwC's chief economist commented, "Just because it is technically feasible to replace a human worker with a robot, doesn't mean it's economically attractive to do so. Levels of automation will depend on the relative cost and productivity of robots compared to human workers in carrying out different types of tasks. We expect this balance to shift in favour of robots over time, but there should still be many areas where humans retain a comparative advantage."
How can you start to see the benefits of automation in the workplace?
There are some pretty simple steps you can take today to identify those areas within you business that would benefits most from automation - we have outlined some of our favourite lean techniques to help you streamline manual process and reduce waste in your organisation in this article. You can also pick up some basic tips to help you ditch the dull admin and get back to the work you love here. And of course, you can get in touch with our team of digital architects and strategists who will be more than happy to help answer your questions about the future of automation in your workplace.